Here's my finished train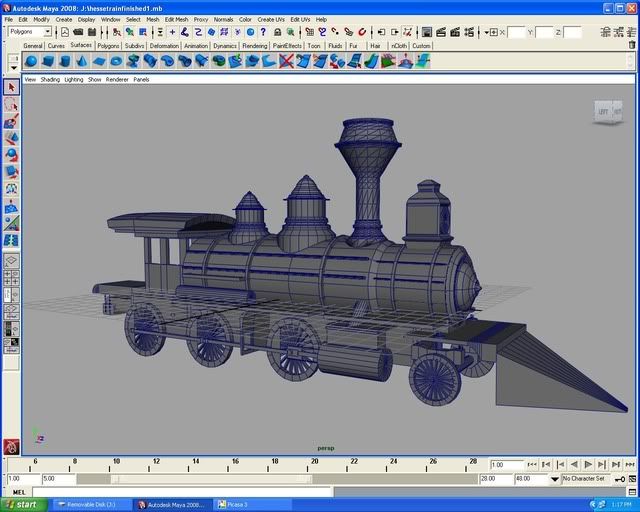 I was so proud of myself when I completed this last week before class. Then... we moved on to NURBS! The teacher was giving a demonstration for what we needed to do for the next project and I looked at my screen to do something that he was going over and in that time I missed the next step. Since that point I felt clueless!! It's amazing how you can go from patting yourself on the back to wanting to wear a dunce cap:( I have been trying to figure it out all week and am having very little luck. Hopefully I will get some answers this week. The lesson I learned from last weeks class is to keep my eye on the teachers screen and scribble down notes quickly than try what he did after the demo!
In the meantime I have been going over the chapter on NURBS so that I am not completely clueless in class this week.
Here is a fun thing I learned (from reading the chapter on NURBS)
How to make a glass using the revolve tool
1.Click on the side view window
2.Change menu to surfaces than click on create-cv curve tool and create a curve for the profile of your object
3.Click on surfaces-revolve
4.View your creation in perspective window on shaded w/wireframe to view.
I have so much to learn and sometimes if seems like I'll never get to the point of knowing enough to use it professional. Baby steps...that's what I keep telling myself.
Hopefully my next maya update will be of a finished subway station and a red rocket.