Try everything!
In my case, when I was going to college (about twenty years ago) I changed my major every semester until the last year, when I finally declared Fine Art as my major.
Then, with degree in hand, I went out to the real world and worked several odd jobs until deciding it was time to go back to school and get my degree in Education.
With two degrees in hand, I got a job as a high school art teacher. Then came marriage, then came baby, then move to a different state, and start over.
A mural business was the perfect fit. Be your own boss, paint on walls, big and collaborate with clients to realize a vision and exceed expectations.
Paint what you want abstract, minis, sell online. That was fun! I plan on returning to that at some point. (As soon as I find a place to paint again)
With no space to paint computers seems the perfect creative outlet. Back to school to study digital media. I'm on my third and fourth courses now and loving it!
With each course I take I learn a new program and different applications and uses for these programs. I have learned photo montaging, photo restoration, and applications for each in photoshop. I have entered the world of 3-D animation in Maya 2008. And currently, I'm working with Adobe illustrator.
Through the variety of projects that I am assigned to do , I'm learning what I like and what I don't like to do.
Here's a project that I'm currently working on:
The left side is a photo of a computer card and the right side is my illustration. It's a great lesson for learning the program but if I did this for a living I'm not sure how long I'd be living!
Here's a close up of my illustration and some of the details...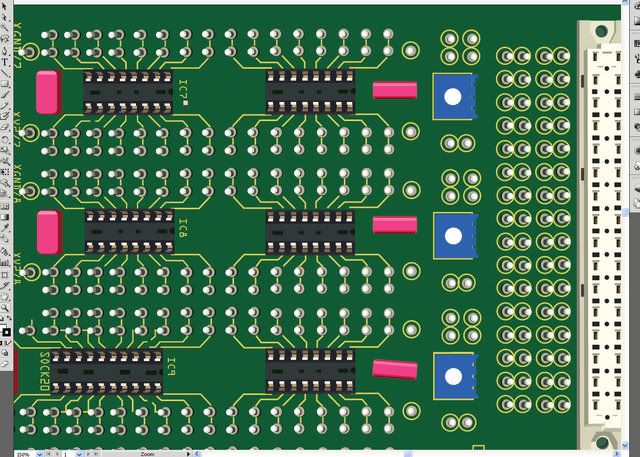 tedious work. But I'm sure it moves quicker the better you know the program.
So, try everything to learn what you do like and what you don't like!
I've decided to put together a new blog with just my digital media work.

My
DIGITAL MEDIA ART PORTFOLIO
I will continue to take course and document my progress, assess my likes and dislikes and possibly enter the digital media art world!