First please click on the link to hear my Christmas Carol from me to you!:)
I just made a karaoke recording: Christmas Song - Silent Night check it out at http://www.karaokeplay.com/recordings/silent-night-1301147.html
One more thing
: I'm thinking it might be fun to host a Karaoke Blog Party. The idea would be for the participants to record a sOng from a karaoke site like
karaokeplay.com
, link it on your blog(like I've done here) or facebook and than link that post to my Karaoke Blog Party. Then we could hop around from blog to blog and listen to each other sing(offering praise and encouragement, of course):) The only thing you would need is a microphone for your computer. Any karaoke enthusiasts out there? I think it would be a blast! Let me know what you think by taking the poll in my side bar:
WOULD YOU PARTICIPATE IN A KARAOKE BLOG PARTY?




Every year I try to do something a little different for my Christmas tree decor. The easiest way to change the look of your tree is with the garland. This year I was looking for something fairly quick, easy and inexpensive to make. I wanted to add color, and shimmer to the tree. For color I chose a multi-colored pack of sequins (bought for a few dollars at Walmart). For shimmer, what else?! Glitter!


1. Some kind of drop cloth to catch the glitter, glue and spray adhesive. I chose brown craft paper because I already had it at home.

2. Multi color bag of sequins in various shapes and sizes.

3. Glitter- I used Glitzy Glitter from stampendous, ultra fine crystal multi-colored

6. Parchment paper to put under section of ribbon when sprinkling the glitter.




1. Put a small dab of glue on finger

2. Spread glue on ribbon

3. Apply sequin

4. Spray 1 foot section of ribbon(spray right over sequins)

5. Put parchment paper under section and sprinkle with glitter. Tap excess glitter onto parchment.


Note: before steps 1 thru 5: Cut piece of ribbon the lenght of tree. In my case it is 7.5ft long.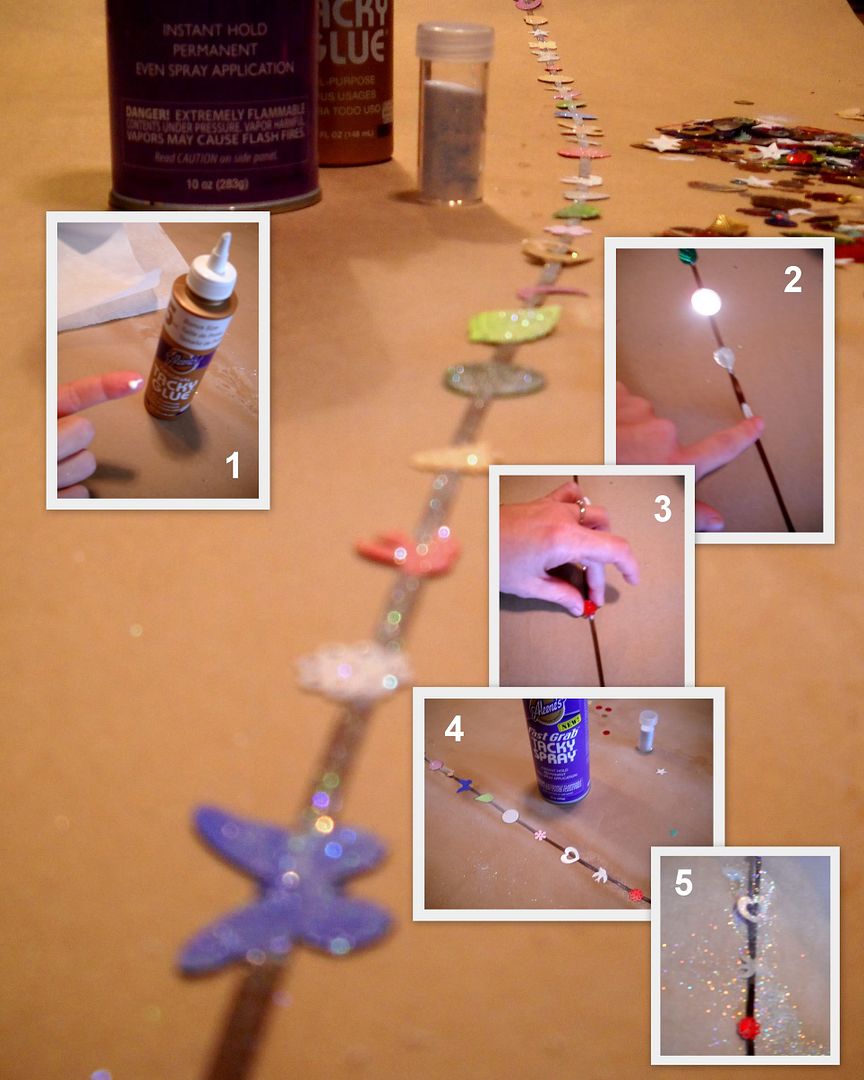 I arranged garland vertically on tree, hanging it from the top and letting it fall down the length of the tree. It's so much easier than wrapping it horizontally:)




If you didn't click on the link above here's your chance again!

I just made a karaoke recording: Christmas Song - Silent Night check it out at http://www.karaokeplay.com/recordings/silent-night-1301147.html