Create a challenge for yourself and set some limits!
When you set a creative a challenge for yourself, you push yourself to go beyond what you think you can do. When you set some limits you narrow your choices, forcing yourself to work with what you have, thus expanding on creative problem solving.
I love the show Chopped on the food network. It's a great example of exercising creativity. The challenge is to create a meal with ingredients selected by the show's producers. The chefs don't know what those ingredients will be until they open the mystery basket. All four chefs are given the same basket of ingredients to work with, plus what is in the pantry and fridge. They are challenged to create an appetizer, entree and dessert. They must do it in a limited amount of time. Talk about thinking on your feet.
Last night I challenged my dh, a professional chef, to a chopped challenge. (He was the only contestant).
My basket was: chicken breasts, zucchini, and Special K cinnamon and pecan cereal. He had 50 minutes to create his entree. Poor guy this was after a full day of work. He's such a good sport! He won the challenge. AND we had a great meal!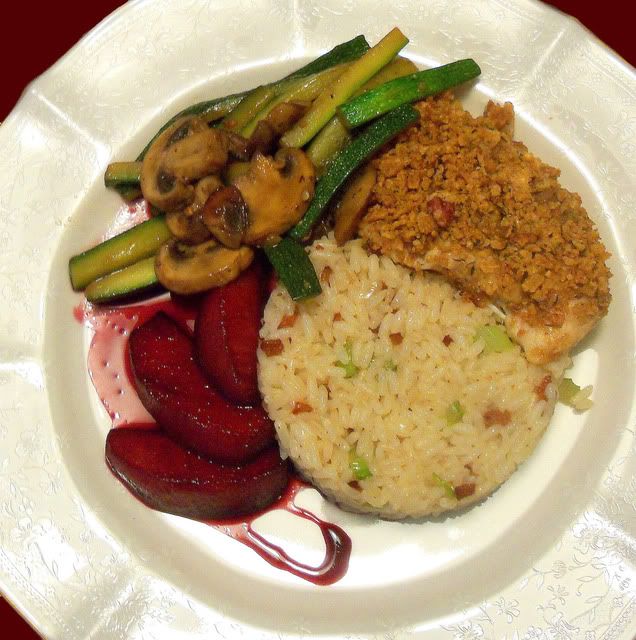 On the menu:
Cinnamon/pecan crusted chicken breast
(the addition of thyme made it a sweet/savory dish)
Long Grain Rice seasoned with bacon and celery
Poached Apple
( granny smith apple poached in a red wine reduction glaze)
Sauteed vegetables (zucchini and mushrooms sauteed in a garlic and butter with a touch of red pepper flakes for a little kick)