Last Friday I subbed at the middle school. I always bring along my doodle bag just in case. The bag consists of 3"x5" index cards, a package of black ball point pens, a red plastic cup, and a snack(for me:))!
I tell the students that if they finish their assigned work early they can take one of the index cards(which I trace a circle on, using the red cup) and do a circle doodle. At first, they are not too impressed until I show them my circle doodle:)
For some silly reason this impresses them:)
Ok so now I have their attention. I talk to them about the humble doodle. I say, doodles are great because we don't expect anything from them, we don't judge them, we don't even really have to think to hard to do them, at least not consciously. They start doing their class assignment so they can finish up and get working on their all important doodle! Sometimes students are reluctant. I had a student that wasn't interested so I took out a doodle that I had started and asked him if he wanted to finish it. This seemed to motivate him and give him the confidence to doodle. That got me thinking. So on my lunch break I started several circle doodles. I gave the students the option of starting with a blank circle or one that I started. I was happy to see that most opted for blank circle. But it would have been interesting to see what they would have done with the ones that I started too. Here is a mosaic of those circles that I started.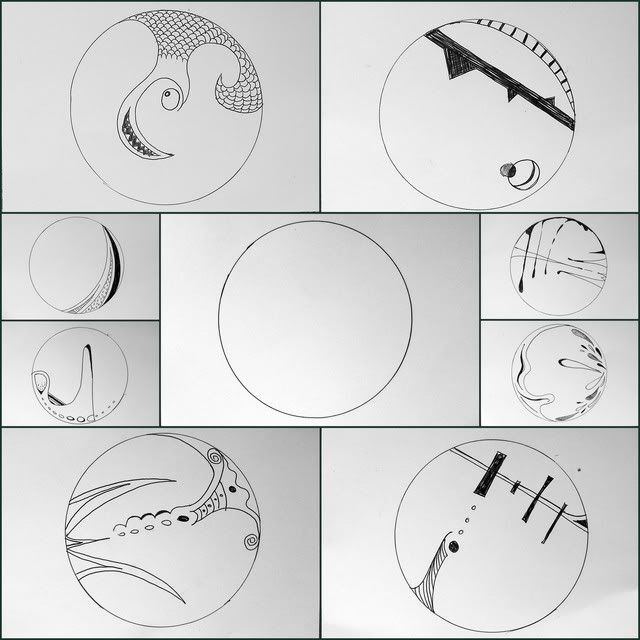 I thought it might be fun to try a little doodle game on my doodle blog Doodle it Up! (poor little blog has been so neglected). If you'd like to play, head on over to
Doodle it Up!
And don't forget to stop by Mary's little red house for
Mosaic Monday!