I would like to introduce you to a new blog today!
My Weight Loss Journey
The author of this blog is my wonderful sister-in-law Stephanie:)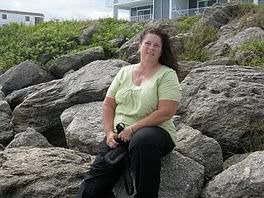 One week ago Stephanie had gastric bypass surgery. She made the decision to have this surgery because she was diabetic and has high blood pressure. When she learned that this procedure would help improve these conditions she asked her doctor if she would be a good candidate for the surgery. He advised her that she would be an excellent candidate and the decision was made!
When she told me she was planning on having the surgery I was a little scared for her because any surgery is scary but I was also excited for her because of the positive effect it would have on her life.
Stephanie has decided to blog about her experience and progress with gastric bypass surgery. I think it is very generous of her to share such a personal experience. I know this blog will be a valuable and a positive support to anybody who is thinking of having the surgery, who has had the surgery or knows someboby who is going through the same thing.
Thank you Stephanie for sharing your story.
I hope all of my readers will check out Stephanie's blog and let her know that you stopped by!
My Weight Loss Journey