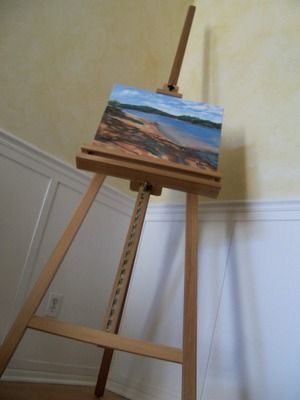 Well, right now it's a painting that I did last year.
This is my new work space, my beautiful easel!! I have been rearranging the spaces in my house. My studio has been turned back into a dinning room. My lovely new easel is in the corner of my living room. I will be working on setting it up so that I can paint, on a regular basis. I chose not to pursue the rented studio because I first need to commit to painting everyday.
I still need a good light and a caddy for my supplies. Hopefully, it will be fully set up in the next week or two(once the kids go back to school). I may even try to add a "What's on my easel?" Feature, once a week. We'll see...